Florida: plenty of weird stuff to see.
Dozens of offbeat and oddball things, and plenty of great directions.
Get on Amazon
Get the PDF
​Florida – the Weirdest State of the Union.
Did you know Florida has…?
A castle made with aluminum printing plates?
A home to Hemingway and his six-toed cats?
America's only Medieval-age monastery?
A monument dedicated to anti-gravity?
A nuclear bunker built for a president?
A garden of concrete dinosaurs?
A radioactive water fountain?
A museum of garbage trucks?
A hospital for injured turtles?
A castle made of coral?
A century-old store?
Save time and energy, and find what's worthy in Florida!
Worthy Go guidebooks are your guide to the best places to enjoy in Florida.
See Florida with an experienced travel writer by your side!
Whether this is your first time abroad or you've been traveling for years, Worthy Go guidebooks have three goals:
Make the most of your time, money, and energy while traveling
Help you go your own way but still provide some guidance
Curate the very best places to enjoy in the country
This guidebook has been completely updated for 2020, and includes:
No affiliate links, no ads, no fluff, and no BS.
Over 90 of Florida's best off-the-beaten-path places.
Detailed, step-by-step directions to reach every place in the book.
Succinct descriptions, exact addresses, and GPS coordinates for every place.
First-hand knowledge and advice: where to stay, what to bring, safety and scam warnings, and more.
All the basics you'll need to know: do you tip? Can you drink the tap water? What SIM card should you get? What public transportation tickets do you need?
Advice on being a considerate, respectful, and sensitive traveler.
Guidebooks are carefully formatted to display well on any device, and links take you to Google Maps (internet connection required).
About Worthy Go
Worthy Go believes in keeping it simple. Itineraries offer step-by-step directions from one place to the next, while guidebooks make it easy to plan an awesome trip. Either way, you get a curated, unbiased look at what's worthy in a city or area/province. You get recommendations to what to see and do, where to eat, where to sleep, and most importantly, clear directions and GPS coordinates.
About the author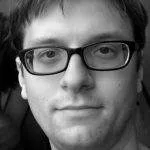 Chris Backe (rhymes with hockey) has written about travel since 2008 and has been around the world a couple of times. He's written over 30 books, and has been seen in Atlas Obscura, io9, Mental Floss, Everything Everywhere, Perceptive Travel, Travel Wire Asia, and many other publications. When not traveling, he loves tabletop games and a glass of white wine.