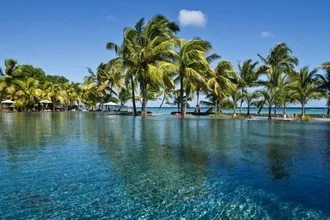 The stunning tropical haven of Mauritius is a kaleidoscope of sundrenched beaches, glistening lagoons, rare fauna and flora, fascinating animals and breathtaking terrain. But as the interesting and beautiful country grows in popularity with globetrotters and adventure lovers, there's still much you probably don't know about this popular holiday destination.
From its intricate history of human inhabitants to its gorgeous scenery and bustling wildlife, let's discover three things you didn't already know about Mauritius.
The world's third-largest coral reef
As a group of volcanic islands encircled in mountain ranges, the landscape of Mauritius is blessed with multiple waterfalls, rivers and lush rainforests. But just off the picturesque coastline, it's also surrounded by the world's third-largest coral reef.
The immense abundance of tropical marine life surrounding Mauritius makes the country one of the best places in the world to go snorkelling and diving. Plus, these teeming underwater habitats help to protect the 150 km of sandy coastline from sharks and jellyfish – so the beaches are perfect for swimming too.
I suspect buying your snorkeling equipment on-site would be more expensive, so pick it up before you go. Aim for the full set in one go for the best deal – as a bonus, the colors will probably match better.
Home of the Dodo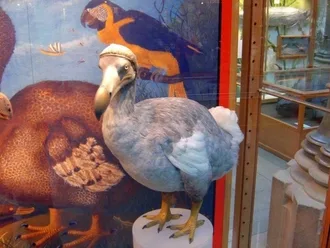 The famous Dodo bird was endemic to Mauritius, which is why it is the national bird of the country. A distant member of the Asian Pigeon, Dodo's are believed to have evolved on Mauritius and lost their ability to fly due to the lack of predators here. They would have been up to one metre tall and probably weighed around 20 kg.
Historians believe that the bird was probably driven to extinction by Dutch settlers at some point in the 17th century, as they introduced invasive species such as rats, cats, dogs and pigs from their ships onto the islands.
There's no official language or religion
As a country that has been owned by the Dutch, French and British, until it eventually achieved independence in 1968, Mauritian culture has been heavily influenced by other civilisations throughout history. When slavery was abolished in 1835, the country was under British occupation. To ensure the continuation of sugarcane production, indentured labourers were brought over from India to work the plantations. This led to yet more social and economic change, and as a result today there is a diverse mix of heritages on Mauritius.
As such, there is no official language or religion amongst the island locals. While English is used for official administrative and governmental purposes, many people speak French and Creole. Almost 50% of the residents are Hindu, and the remaining are mostly Roman Catholic or Muslim – but there are plenty of other religions and languages spoken in Mauritius.
A paradise for all
With such a mix of cultural influences, Mauritius is truly a paradise for all. Whether you're a sun worshipper looking for endless beaches or a jungle explorer ready to trek through dense rainforests, the landscape of this stunning country is only amplified by the rich history and culture found here. And as such a melting pot of Indian, European and African cultures, the food here is an experience in itself. So be sure to try the street food and taste the fresh seafood when you visit.