A popular holiday destination, Cyprus is located just south of Turkey in the beautiful Mediterranean Sea. This kid-friendly island nation is lined with stunning beaches and captivating sights, making it the perfect getaway for those looking for some sunshine and gorgeous scenery.
Cyprus is also known for its rich and fascinating history, and is home to many ancient sites offering a glimpse into the island's past. Any history lover could spend weeks exploring each captivating site, but we've narrowed it down to just three that you absolutely must visit if you're strapped for time.
Kourion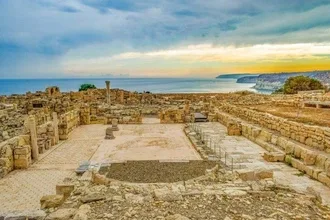 Image by Dimitris Vetsikas from Pixabay
Located on the southwestern coast of Cyprus, Kourion is an ancient city dating back to the second century BC. This incredible archaeological site was built on the hills of the area, designed to overlook the sea and control the fertile land beside the nearby river, Kouris.
Kourion was a thriving kingdom, but unfortunately, an earthquake in 365 AD took down most of its buildings. Efforts have since been made to preserve what remains of the fascinating ruins, and some have even been restored, such as the Greco-Roman theatre at the heart of the city. Visitors today can explore the site and even witness performances in the restored theatre, providing a glimpse into the life of residents in ancient times.
Tombs of the Kings

Image by Dimitris Vetsikas from Pixabay
A long-standing UNESCO World Heritage Site, the Tombs of the Kings is a popular destination for history lovers. This ancient necropolis lies just south of the similarly fascinating town of Paphos, making it easy to visit two incredible locations one after the other.
The Tombs of the Kings comprises a series of tombs all dating back to the fourth century BC. Although the tombs were actually used by high-ranking officials and aristocrats rather than kings, the grandeur of this stunning site has rightfully earned it the title. Each tomb is cut from solid rock and adorned with intricate carvings and decorations, making them all completely unique but equally as fascinating to explore.
Choirokoitia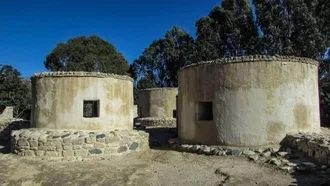 Image by Dimitris Vetsikas from Pixabay
Another UNESCO World Heritage Site, Choirokoitia, or Khirokitia, is an extremely important prehistoric site. Dating back to the seventh millennium BC, this settlement was home to some of Cyprus' earliest farmers and teaches us a lot about the evolution of human society. Archaeological excavations within the site have already shed light on prehistoric times and the Neolithic Age, and with much of the area remaining untouched, it provides exciting hope for future discoveries.
Visitors today can explore five cylindrical-shaped dwellings that have been reconstructed using the same methods that would have been used for the original settlement. Equipped with replicas of household objects, the accurate visual representation of ancient times is amazing to see.
Cyprus is a treasure trove of historical sites and monuments, and these three sites are just a small sample of what the island has to offer. No matter where you end up in this culturally rich nation, any history lover is sure to have a fascinating and enlightening experience.