If you're spending any time in Tallinn, Estonia, you might look at a map to realize the nordic country of Finland is a short hop across the Gulf of Finland only 80 kilometers away. We took a weekend to visit Finland while in Tallinn, and while the cruise there and back isn't challenging, there's definitely a few things to be aware of.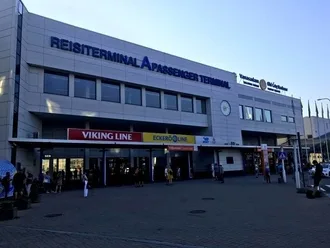 First things first: arrive at ferry terminal A in Tallinn.
Bus 2 in Tallinn takes you to the Reisisadam bus stop, which is a short walk to ferry terminal A.  You can buy your ferry tickets online, but you'll still need to check-in upon arrival. No printing is needed – your e-mail should have a ticket / receipt with a QR code. Once you arrive at the ferry terminal, find one of the automated Viking Line machines, then check-in by scanning the QR code at the machine.
When that's done, you'll get a credit-card-sized ticket with another QR code like this: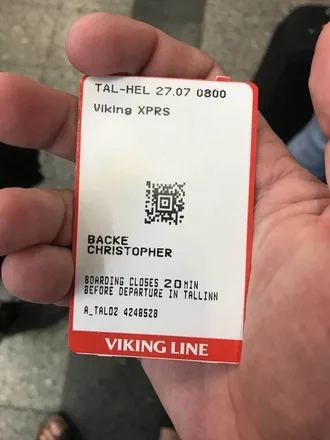 Boarding
The terminal and boarding process is similar to a small airport, minus the security theater but with quite a bit more chaos than expected. Literally hundreds of people are standing near shoulder-to-shoulder to go up one escalator, which was being watched by security who forced the flow to stop for awhile for something… upstream, I guess…
Once at the top, you'll scan your ticket and go through some turnstiles to wait in a different, airport-like terminal, except with fewer seats. This is several times the number of people boarding a plane, and many of them are boarding through a single set of doors, so things will be a little… chaotic.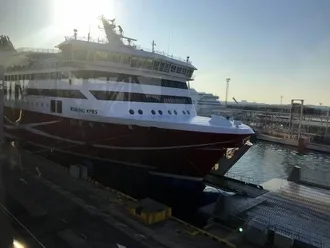 I should point out that the Viking XPRS ship runs anywhere from 2-4 times a day, depending on the season and the day of the week. They're not the only ferry company that connects Tallinn to Helsinki (Eckero and Tallink), but we went with Viking since it had a Saturday morning ferry that left at 8am…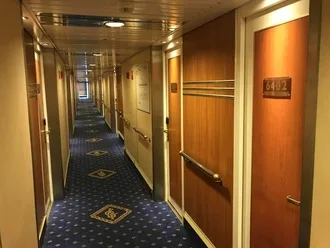 Exploring
I don't know the entire history of the Viking's XPRS ship, but it definitely feels like a ship that got outclassed by newer cruise ships and got demoted to ferry duty as a result. There's a deck full of cabins like this one (from 24 to 100 € each way), and that's over and above the basic cost of the ferry crossing.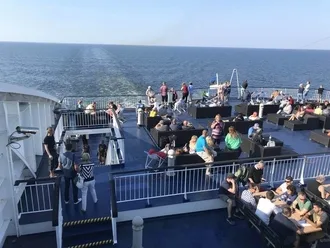 The stern (back of the boat) – despite being fairly early, more than a few people seemed happy to sit in the restaurant / bar area despite it not being open. It's fairly windy out, so hang onto your stuff!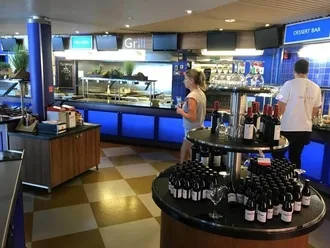 No freebies in sight
A cafeteria-style setup for food and drink, one of a few like it. Prices are high — self-serve 500ml beers were 5 € while soft drinks were 3.50 €. Look for cans and bottles to be slightly cheaper, but don't expect any bargains on food or drink. At least the sinks in the bathroom offer potable water – bring a plastic bottle.
Worth noting: there's a fairly sizable store on board the ship selling everything from alcohol to snacks to card games to souvenirs. Again, no bargains to be had on board — this is a 2 1/2 hour ferry ride, and bringing snacks / drinks on board is allowed.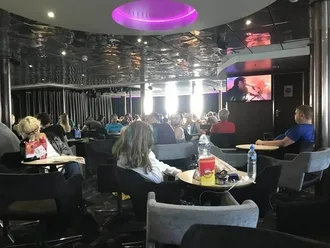 So… where do you sit?
If you're not springing for a cabin (which honestly isn't necessary for a short ride), you'll want to explore the ship for a place to crash and relax. My pro-tip for you is to seek out Club X or the next-door cafe for a place that's A: indoors (not windy or sunny), B: not overflowing with people, C: has plenty of seats, and D: is not smoky.
More than a few people chose to sit or lay down in the halls, which is lame… You'd think a ship like this would have a sort of ferry-like sitting room, but we didn't find anything like it. Some of the other ferries might, of course, but this one didn't.
Issues
The wifi was problematic – it didn't work through the app or the usual hotel-like system (not that finding the password was easy or intuitive). Assuming you did get it working, you'd have a whopping 60 minutes of internet… Kinda stingy.
The cruise ship prices were to be expected, though still unwelcome, and I didn't get the logic behind paying for a room on top of a ferry cost.
Overall?
As a way of getting from point A to point B, it's fine. The ship was clean, the stores has a wider variety of alcohol than expected (possibly from Finnish people returning to Estonia hoping for cheaper alcohol), and the facilities are fine. I haven't been on enough boats during our travels, but this one's trying hard to entertain and otherwise be more than a utilitarian water crossing. (On our way back, the music in Club X switched off and a live band rolled its way through some safe American 1990's hits.) Compared to flying, it's cheaper and easier to cross the water from one Schengen Zone country to another.
See the current timetable at https://www.vikingline.com/viking-line-cargo/routes-timetables/helsinki-tallinn/.