It does sometimes feel like we're living in the future. Hotels and taxis are no longer the default / only option for traveling, not when Airbnb's and various taxi apps are a thing in many countries around the world. For virtually every night over the last couple of years, we've stayed in an AirBnB in over 15 countries — here how we find the best AirBnB while traveling.
Why AirBnB?
Apartments are always furnished.
Plenty of budget and size options, from the whole apartment to just your own room in a shared house.
It's the biggest platform of its kind for finding places to stay around the world, with listings in over 190 countries.
If anything goes wrong, the platform can help resolve issues.
The host is often a wealth of knowledge about their city / country.
Whether you're a digital nomad staying in a place for months or a tourist who's enjoying a city for a few days, here's how we find a great place for our needs.
Know what's important to you to find the best Airbnb
It goes without saying this will be different for everyone, based on your interests, your priorities, and who's traveling with you.
As a married couple and as digital nomads, several things are important to us:
Some space to separate, listen to our own videos, work, etc.
Some doors to block noise and separate rooms
A couple of tables and a couple of chairs
At least a queen-sized bed
Fast wi-fi
Some way to make coffee in the morning
Location: being close to a metro station or a bus stop.
What might be important to you?
Lots of open space
A big kitchen
Big windows for natural light
Whatever it is, write it out. Keep it by your side as you're searching the site.
Research the city a bit
This may not matter as much if you're only in a place for a few days. Past a week or so, your location is likely to dictate the restaurants you go to, how much you connect to the rest of the city, and so on. Do you want to be in the heart of downtown, by the biggest park in the city, or in the suburbs?  This is one of those cases where just opening up Google Maps and panning around the city might be helpful. You might also choose to research the various neighborhoods of the city to fit your interests.
Your hobbies or interests should also influence where you stay. As a game designer, I'd prefer to be within walking distance of a board game cafe or a store. Joggers might do some research on some great tracks or parks. People who enjoy yoga might research yoga studios. You get the idea. Star the specific places that are important to you.
Actually head to AirBnB and start searching
Keep that Google Maps tab open, and open AirBnB in a new tab. You might be toggling back and forth between these a fair bit.
Start your search within the city in question, then filter according to your budget, whether you want the whole place to yourself or are fine with a room in someone else's house, and the specific places you starred. Click on 5-10 listings, holding down 'Ctrl' or 'Command' when clicking so they open in new tabs.
Look at the photos carefully…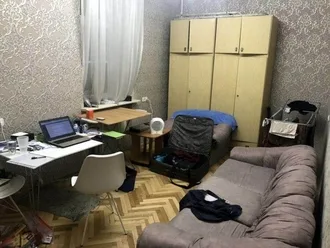 Time for our game faces. If I've clicked on it, it's in the right area and is in the budget. Now it's time to figure out how much of a fit this place is.
Look at the pictures. We'll get to the text in a moment — for now, just look at the pictures. Make them full-screen. Try to get a sense of the layout and how the place looks. Does it have the things you're looking for? If the style of the place matters to you, what do the pictures show?
If the photos don't show what I'm looking for, it's unlikely to move on. It's also important to note that while photos have rarely been deceptive, I've seen some that used a fisheye lens to make a room look bigger. This is usually pretty easy to spot since straight edges will look curved.
…then the text.
Scroll down and click 'read more about the space', then start reading the description. Overlook the fluff ('only 5 minutes to downtown!'), but pay attention to what it says about things that are nearby (like bus or metro stops, grocery stores, etc.)
Read the reviews and any responses from the last year or so. These need to be taken with a grain of salt, but seeing the same thing from multiple reviewers is usually a sign.
Confirm the details…
And man, there's a lot of them. The four most important ones:
Confirm your dates.
Check the cleaning fees and any deposit necessary.
Confirm what you're renting: the entire apartment, a private room, or a shared room. It's (currently) in pretty tiny print near the top of the page, and can be easily overlooked.
If staying for longer than a month, confirm you're receiving a monthly discount from the usual nightly rate. Hosts can set the monthly discount amounts themselves, so the bigger the better.
If all the details look good, keep the tab open. Otherwise, close it and move on.
…then pick a place.
Narrow it down to the best 2 or 3, then pick one. Bonus points if it's an Instant Book so you get a reservation made as soon as you pay. If it's a 'Request to Book' listing, only request to book one place at a time. Airbnb will collect some money in anticipation of a 'yes', and the host will have 24 hours to respond to your request. In case they decline, make a note of the other finalists and request one of them next.
Once it's booked…
Make sure they know when you'll be arriving. Request a pick-up from the airport, or just ensure they're aware you'll be arriving at a given time. Some hosts are able to do a pick-up from the airport, but may not offer unless you ask!
Not on Airbnb yet? Get some money off your first booking with the link