Author's note: this guest post is brought to you by my lovely wife, Laura. For reasons you'll soon see, she's more qualified to take on this topic than I am. When not working as a Korean-to-English translator or traveling with me, she may go through more cans of Diet Coke per year than produced by the local bottler.
Today's topic is one that no one probably wants to talk about, but let's face it: sometimes you need to know these things. I'll be filling in for Chris today, because he's a healthy young lad who very rarely needs medical services, whereas I (his wife) have been diabetic since the age of seven, with all the joys that brings.
In other words, I'm kind of an expert on the subject.
Bangkok is somewhat of a mecca for medical tourism, as it should be. There is a fairly enormous gap between the rich and the poor in Thailand, and that holds true for medicine as well. You can go to a local clinic and get treated for pennies, just about, or you can go to some of the best hospitals in the world and feel like you're in a five-star hotel the whole way through. In the higher-end places, doctors will almost always speak English (if not several other languages as well) and will be certified in a Western country. Appointments can be made by their website (in most cases), by email or by phone. I have not tried just walking in to any of these hospitals except Saint Louis, but I have to believe it's perfectly acceptable.
In this article, I'll cover the five Bangkok hospitals where I have personal experience. For scientific purposes, I'd like to go to each one and have the same procedure done and then compare/contrast, but as that would be time-consuming and a bit more than I want to pay, I'll just talk about my experiences with each one, whatever they've been. Readers are, of course, encouraged to write in with their own experiences and their own costs.
All the hospitals listed below have English-speaking staff, plenty of nurses and attendants, lots of clearly marked directions, and are generally spic-and-span. They'll also usually provide you with free water and have a designated area outside where an attendant will help get you into a taxi.
Bumrungrad
When you hear expats talk about Thai hospitals, this one is almost always immediately named, and for good reason. It is, quite honestly, the best hospital I've been to anywhere in the world (and like I said, I'm an expert!) Some of you may not even need to read this article any further. It's also kind of the Hilton of hotels, and easily twice as expensive as places like St. Louis (a bit farther down the list).
Let's start with the lobby:
Continuing up the escalators to the second floor, we have a McDonald's.
I feel this is a sort of mutually beneficial relationship, like cows and the bacteria in their stomach (the first example of mutualism listed on wiki. If any McDonald's representatives are reading this, I totally did NOT just compare you to bacteria.) For what it's worth, McD's is available as room service if you're staying at the hospital, as I did a few years ago.
The rooms are quite nice…
…with an unbeatable view to take your mind off whatever unpleasant thing led to your being in that room in the first place…
…and McDonald's is far from the only room service option.
The hospital menu itself includes at least seven choices for each meal, including Asian-style, Western-style (two choices for each), vegetarian and halal.
During my own stay, I had several nurses attending me at any given moment, and usually at least two or three would come in together to do whatever it was they needed to do. In fact, there were so many nurses that they didn't have enough work to do and resorted to braiding my hair and such to stay busy.
(Any North American health care professionals reading this are probably whimpering at this point).
Medical care was superb. My diabetes doctor had an almost preternatural ability to know what my blood sugar was and how much insulin was required at all times, and I had another doctor around taking care of another infection I hadn't even known I had. I was actually in Bumrungrad as a result of an incident of diabetic ketoacidosis which happened during a vacation to Cambodia (notably NOT known for its medical tourism — they failed to treat the problem for almost a full day, which made it far worse). Bumrungrad cleaned up all the problems left over from the Cambodians (including MRSA) and sent me home in a few days, for a total cost of 158,359 baht (about $7500 US), which covered four days' stay in a solitary room in intensive care, all my medicine (which was actually the bulk of the cost), constant nursing care and the three different doctors who looked after me.
Basically, they know their stuff, and they're really good.
They also have interpreters on hand for most major languages, various information desks (again in various languages) and plenty of staff to helpfully direct you to where you need to go. The board above the cashier's desk shows its info in Thai, English, Arabic and Japanese at different times.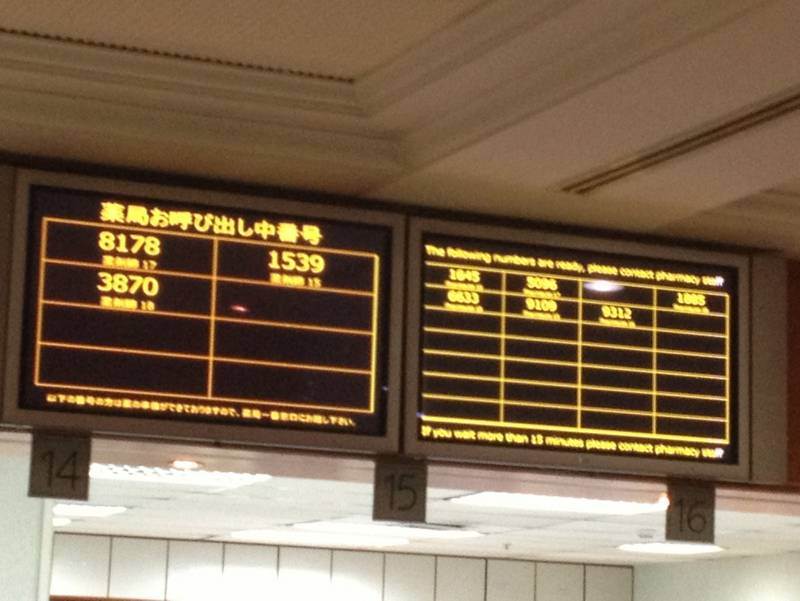 Sample costs:
Ambulance from the airport to Bumrungrad: 3,700 baht
Room (solitary in intensive care for three days plus solitary room for one): 14,320 baht
X-ray: 700 baht
X-ray radiologist's fee: 155 baht
Doctors' fee (three different doctors multiple times over four days): 27,300 baht
ER service: 800 baht
http://www.bumrungrad.com/thailandhospital
33 Sukhumvit 3, Wattana, Bangkok 10110 Thailand
Tel: +662 667 1000
Bangkok Hospital
This is owned by the same people who own Bumrungrad, and it's also a world-class facility with costs to match. Well, by Thai standards; it's still far cheaper than the US. I have retinopathy (diabetic eye problems) and went here to get that checked on.
The good: they seem competent, they have all the staffing surpluses I just raved about in the Bumrungrad entry, and they have luxury features like a special dark room with comfy chairs and soft music playing where you wait while your pupils are being dilated (necessary for many eye exams, and takes about thirty minutes to set in), as well as a live chamber orchestra playing relaxing music while you wait to pay. (In some cases, you may need the relaxation…)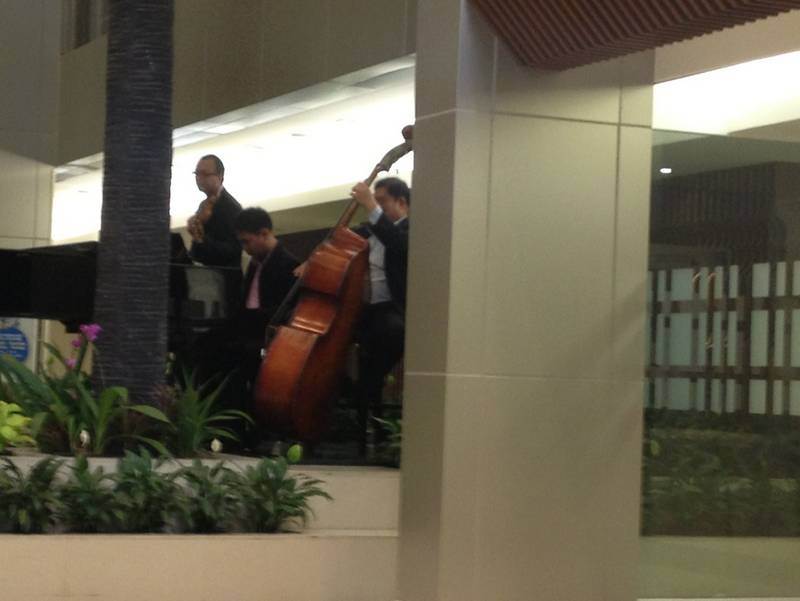 I left them after a couple of visits because I had to wait over two hours there each time (poor scheduling) and, in the end, the doctor wanted to do laser treatment for a cost of 12,400 baht, which is more than what I paid for that in Korea. (Note: not LASIK, but treatment for my retinopathy). Also, the hospital is somewhat less conveniently located than either Bumrungrad or Samitivej.
Diagnostics/medical equipment (eye tests including visual acuity, doctor's slit-lamp exam, eye pressure, OCT scan): 2,175 baht
Diagnostics/medical equipment (same as above, but no OCT): 285 baht
Doctor's fee (two visits of about 5–10 minutes each to a specialist): 1,150 baht
Nursing charge (administering medicine and moving patients around during a single visit): 150 baht
Medicine ( eye drops for pupil dilation): 120 baht
http://www.bangkokhospital.com/
2 Soi Soonvijai 7, New Petchburi Rd, Bangkok, 10310. Thailand.
Phone: +66 2310–3000
Samitivej Sukhumvit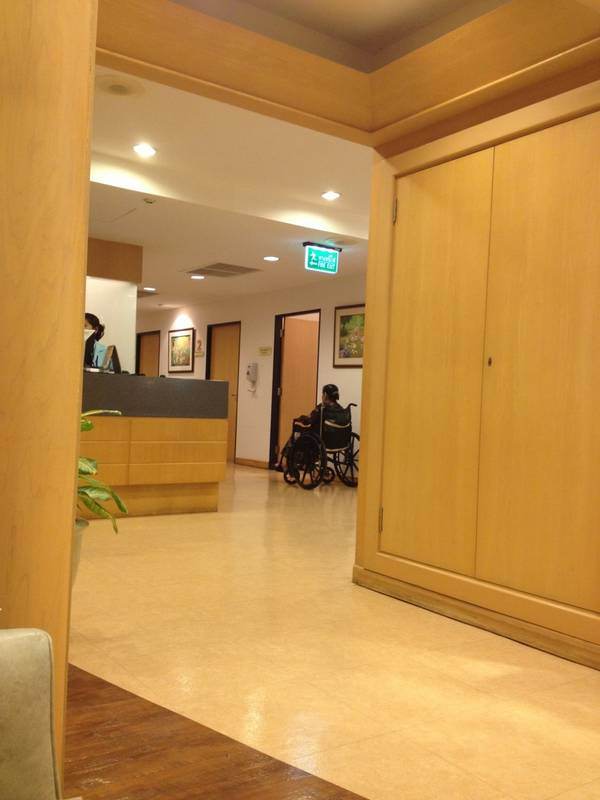 Samitivej actually has several branches. I went to the Sukhumvit one, which is right downtown and just a short motorcycle or regular taxi ride from the BTS. There are also branches in Srinakarin and Sriracha as well as a children's hospital in Srinakarin.
The first thing you see upon walking in the door is a Starbucks.
Well, okay. It's actually not until you reach the second floor that there's any indication you're in a hospital at all. After that, it was a bit of a maze, with no signs directing me to Building Two, but the usual information desks and helpful staff. Here, as well, they have interpreters in various languages, including Arabic and Korean.
I actually had the exact same procedures done here as I had at Bangkok Hospital, for a comparable cost.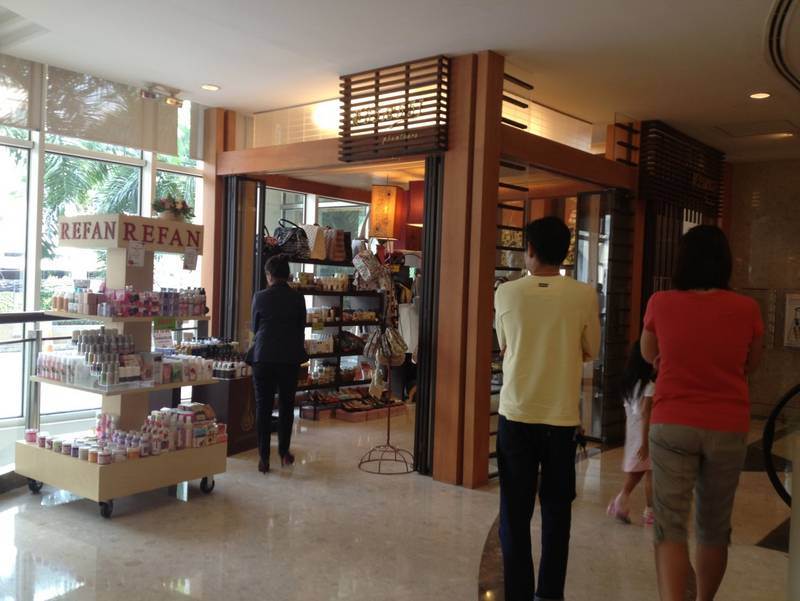 Of course, no hospital visit would be complete without a little souvenir shopping…
Naturally, the eye clinic features a selection of glasses, including Gucci.
Sample costs:
Diagnostics/medical equipment (eye tests including visual acuity, doctor's slit-lamp exam, eye pressure, OCT scan): 1,900 baht
Nursing charge (administering medicine and moving patients around during a single visit): 100 baht
Medicine ( eye drops for pupil dilation): 300 baht
Doctor's fee (two visits of 5–10 minutes each): 899 baht
So, all in all, it's about the same quality as Bangkok Hospital, but slightly more affordable.
http://www.samitivejhospitals.com/Sukhumvit/en
133 Sukhumvit 49, Klong Tan Nua, Wattana, Bangkok 10110
Tel: +66 (0) 2711- 8000
Bangkok Nursing Home Hospital
I'm adding this one on the strength of its reputation. I've been there once, years ago, for treatment for an ear infection, which went off without a hitch. As far as I can tell, it's cheaper than the three listed above, though definitely still on the high end as far as Thai hospitals go. The lobby is, again, luxurious:
This one is located close to Silom Road — perhaps more convenient for some.
http://www.bnhhospital.com/en/
9/1, Convent Road, Silom Bangkok 10500, Thailand
CallCenter: +66–2686–2700
Saint Louis Hospital
Saint Louis Hospital is located right next to the eponymous Soi Saint Louis, near BTS Surasak. I used to live a few minutes' walk from here, and this was the hospital I used for relatively easily treatable things.
There's a nice little statue of Saint Louis outside, and he of course gets all the usual respect.
Also, we used to go to the Au Bon Pain here sometimes when the school lunch sucked. You don't normally think of going to a hospital for the food, but Au Bon Pain is pretty good.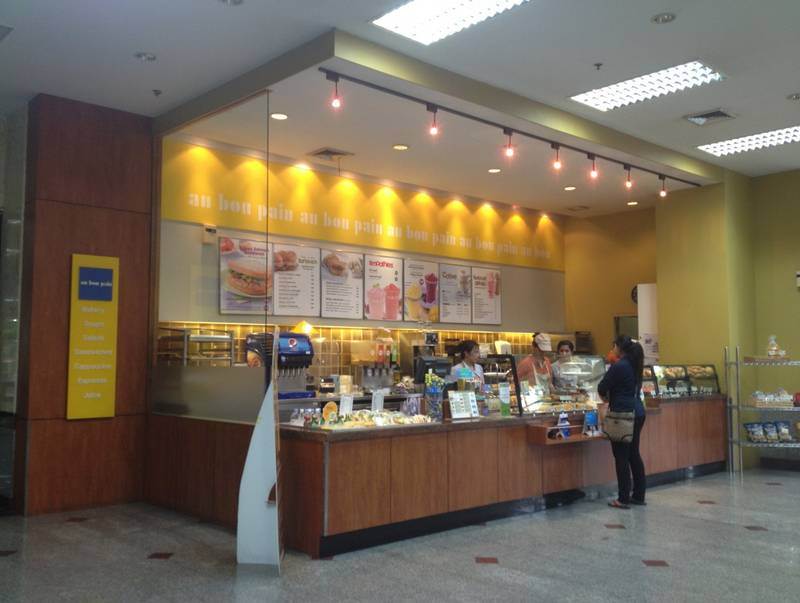 This hospital is much less international than the others, but they do still have an international desk. There also is (or at least was) no need for appointments most of the time — you could just walk right up to the front desk, tell them the problem, and they're direct you to the right place (after the obligatory height, weight and blood pressure measurements, about which Thais seem to be a bit on the maniacal side — those tests were done on me literally every time I went to the hospital, even if I'd just been there the day before.)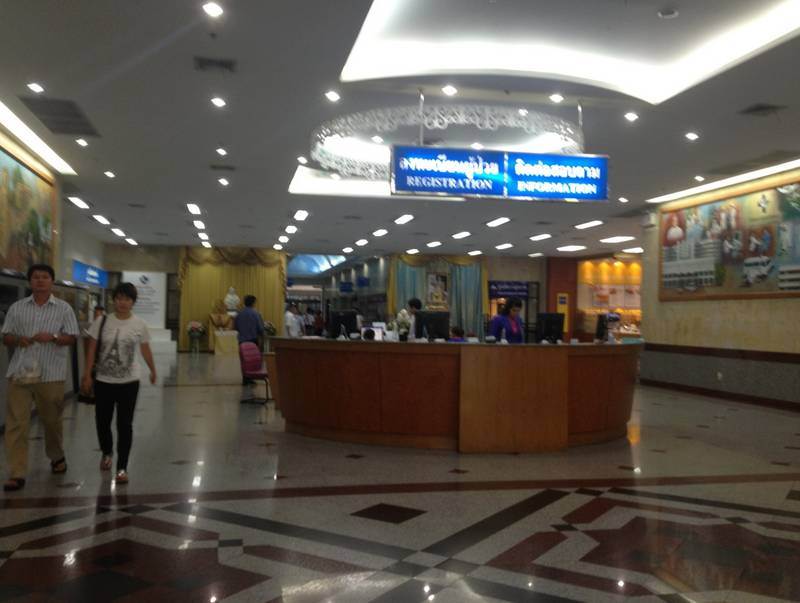 Anyway, they did a fantastic job with simple problems, and at a much more tolerable price than the hospitals listed above. Unlike the others, this hospital was usually full of Thais with only a few foreigners around. Waiting times depended, as they usually do in medicine.
The down side is that I personally would not use this hospital for anything more complicated — I tried to have a diabetic eye checkup there once and the doctor was evidently not aware of what's required for a diabetic eye checkup — he just kind of peered in with a light and said everything was fine.
Oh, and they have a Baby Massage Center… in case you have a baby that needs a massage. I guess.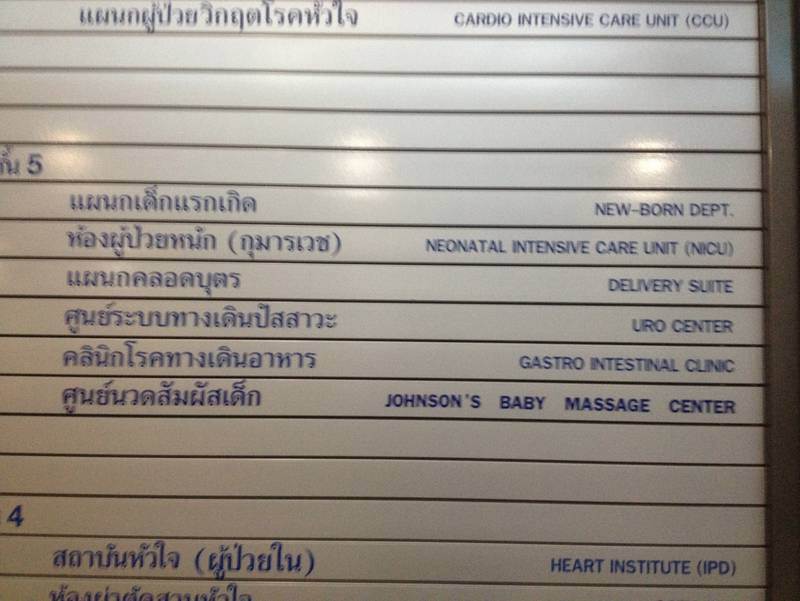 As always, this is very subjective and your experience may well be different. In terms of price and speed, I would definitely recommend St. Louis over the other hospitals here; however, if you want a more pleasant experience or more in-depth treatment, Bumrungrad is wonderful and any of the others on the list will also do a very good job.
http://www.saintlouis.or.th/main_page.php
27 South Sathorn Road 10120
Tel: +6622109999, 67505000
Chris in Thailand disclaimer: links are not necessarily endorsements, and no financial compensation was received from any of the institutions.
http://www.bumrungrad.com/thailandhospital
---