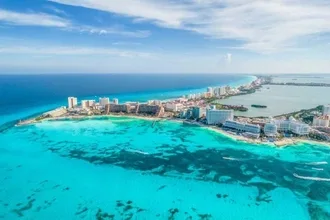 Cancun, the Caribbean paradise, draws millions of travelers yearly to its white-sand beaches and stunning turquoise waters. It's easy to understand why so many people flock here, but it's important to remember there's much more to this destination than just the beaches. Explore many hidden gems and activities during your escapade in Cancun. 
Discovering the Local Cuisine
One of the best ways to get acquainted with a destination is through its food; Cancun is no exception. The local cuisine uniquely blends Mexican, Caribbean, and Mayan influences. Fresh seafood is abundant in this coastal city, with favorites such as ceviche and seafood tacos being widely available. Many delicious meat dishes include cochinita pibil (a slow-roasted pork dish) and chiles rellenos (stuffed peppers). In addition, be sure to sample some local street food, from tamales to elotes (corn on the cob). 
Exploring Mayan Ruins 
Cancun is home to some incredible Mayan ruins worth exploring during your trip. The most famous ruins are Chichen Itza and Tulum – both sites can easily be visited as day trips from Cancun. Chichen Itza is one of Mexico's most impressive archaeological sites; the Mayans built it between 600 AD and 1200 AD, containing some stunning architecture. Tulum is another fascinating ruin site that was once an important trading port for the Mayans; it also has beautiful views over the coastline. 
Uncovering Natural Wonders 
Cancun boasts some breathtaking natural wonders that should be on every traveler's list when visiting this tropical destination. Xcaret Park is a must-visit for nature lovers; it's a vast eco-archaeological park with underground rivers, lagoons, coral reefs, jungles, and more. You can even swim with dolphins here! The Yucatan Peninsula is also home to some incredible cenotes – natural sinkholes filled with crystal clear water – where you can swim or snorkel in underground caves.  
Relaxing on Isla Mujeres 
Isla Mujeres (Island of Women) is a small island located just off the coast of Cancun; it's well worth taking a day trip here during your stay. The island is home to some stunning beaches, including Playa Norte – one of the most beautiful beaches in Mexico. You can also explore the Mayan ruins at Ixchel, visit a turtle sanctuary, and take a boat tour to see dolphins. 
Seeking Medical Treatment 
Cancun is an excellent destination for those seeking medical treatment. The city has numerous medical facilities, including Mexico Cancer Clinic, that offer high-quality care. This clinic specializes in personalized treatments for various types of cancer and other conditions such as diabetes and hypertension. 
Uncovering Nightlife Hotspots 
Cancun's nightlife scene is world-famous, and it's easy to see why. There are plenty of nightclubs, bars, and live music venues to explore during your stay; many are located along the famous Hotel Zone strip. For something different, head to Coco Bongo – one of Cancun's most popular nightclubs that offer an amazing show with acrobatics, dancers, and more. 
No matter what you're looking for during your escapade in Cancun, there's something here for everyone. From exploring Mayan ruins to seeking medical treatment at Mexico Cancer Clinic or discovering hidden gems such as Isla Mujeres or Xcaret Park – there are plenty of activities and sights to uncover during your stay in this Caribbean paradise. 
Safety tips for travelers 
As with any destination, taking safety precautions when traveling to Cancun is important. Here are some tips to help you stay safe during your trip: 
Be aware of your surroundings at all times. 

Avoid carrying large amounts of cash or valuables with you. 

Always lock the doors and windows of your accommodation. 

Don't leave drinks unattended or accept drinks from strangers. 

Use official taxis to get around – avoid hailing taxis on the street. 

Don't hike alone or in remote areas – stick to well-known trails and always tell someone where you are going. 
Conclusion 
Cancun is an incredible destination with stunning beaches, amazing food, incredible Mayan ruins, and plenty of hidden gems to explore during your escapade. From swimming in cenotes to seeking medical treatment at Mexico Cancer Clinic or uncovering nightlife hotspots – there's something here for everyone. Just remember to take safety precautions and enjoy exploring this Caribbean paradise!