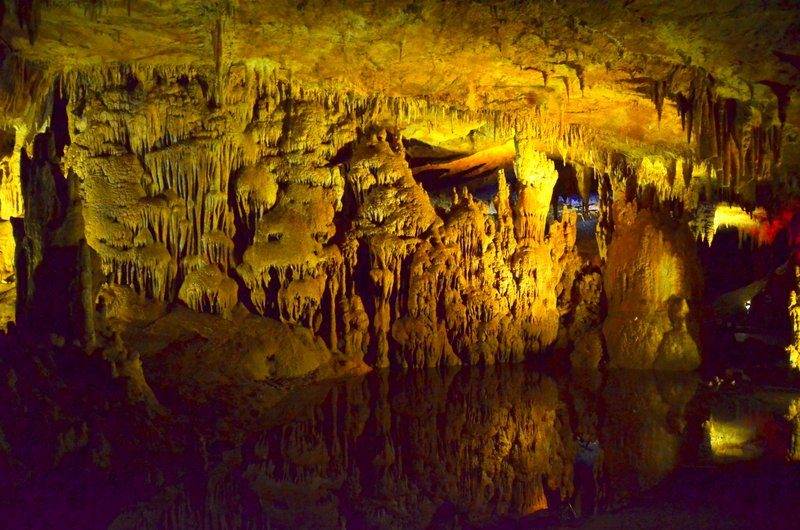 Prometheus Cave was actually a toss-up for us while on our Georgian road trip. Since we were basically passing just a few kilometers by it, and we were unlikely to be passing this way again any time soon, we thought 'alright, sure, why not…'.
This turned out to be a great decision.
OK, the bad news first…
'Middle of nowhere' doesn't quite describe its location — it's about 20km from Kutaisi and 250km from Tbilisi — but it does take some time to reach (about 4 hours if driving from Tbilisi and perhaps 20-30 minutes from Kutaisi).
This site also features dual-pricing — non-Georgians pay double what locals pay, despite no clear reason as to why. You'll need to join a guided tour (as you would with most caves around the world), but I didn't see a posted schedule for them. We ended up waiting about 25 minutes for our tour to start, which was ample time to walk around the mini-museum, use the bathroom, etc.
What is Prometheus Cave?
First discovered in the early 1980's and originally known as Kumistavi Cave, the cave became a tourist attraction in 1985 with about 1 kilometer of pedestrian path laid out. The cave closed in 1990 when the Soviet Union collapsed, and it laid unused (but protected from vandals) until 2007.
In 2010, then-president Mikheil Saakashvili visited the area and suggested the name Prometheus Cave. For those as familiar with Greek mythology as I am (wait, isn't there also a movie called Prometheus?), Prometheus defied the gods and gave fire to humans. As punishment, Prometheus was chained to a rock and an eagle was sent to feed on his liver.
In any case, Prometheus was supposedly chained somewhere in the Caucasus mountains, which is in the area. Is there any truth to this Greek myth? Who knows — what matters is the story this place has to tell today.
Wait, there's a story?
That story is… mostly forgettable. The tour guide led the group at a pretty fast pace, covering the 1.4km tour in about 45 minutes, including hundreds of steps. I found myself falling behind while trying to get good shots in low-light situations (a struggle for DSLR's even in ideal circumstances).
There's zero signage inside the cave that I saw, but the signs inside the visitor center detail the six halls you'll stop in along the way. The path is well-defined, though there were light bulbs that needed replacing. Once your eyes were accustomed to the low light, this is less of an issue.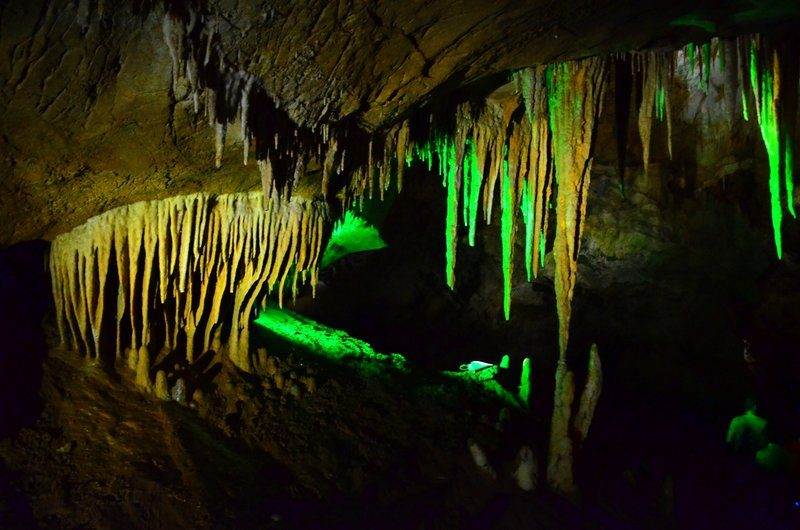 The guide did a bit of talking about stalactites and stalagmites, how they grow a centimeter every century. Nothing you haven't heard before if you've gone on a tour of a cave before,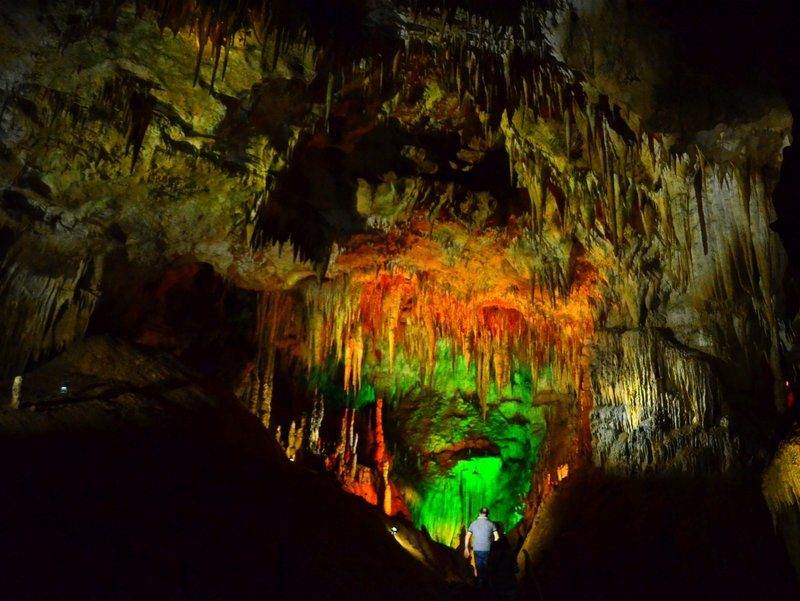 That's a person in a blue shirt — and yes, it kind of looks like a gigantic creature about to eat them up (if you're not seeing it, picture the green part as a tongue of sorts, with the red stalactites as the upper teeth — see it now?). Poor guy.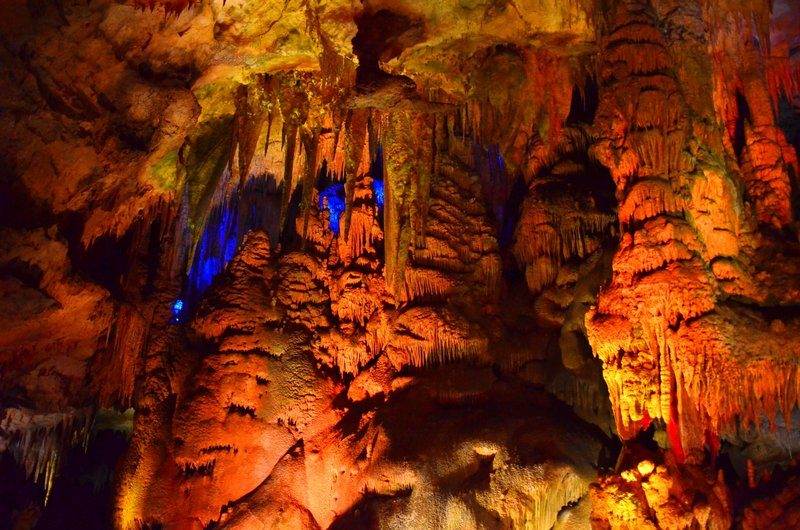 Photographers, the rule is no flash, and there isn't a lot around to serve as a brace or tripod. Remember the basic rule of shutter speeds to avoid blur: the shutter speed should be faster than 1/[focal length in mm]. Bump up the ISO to make it work, and remember it's easier to fix noise than blur.
The rest of the photos are presented with minimal textual interruption.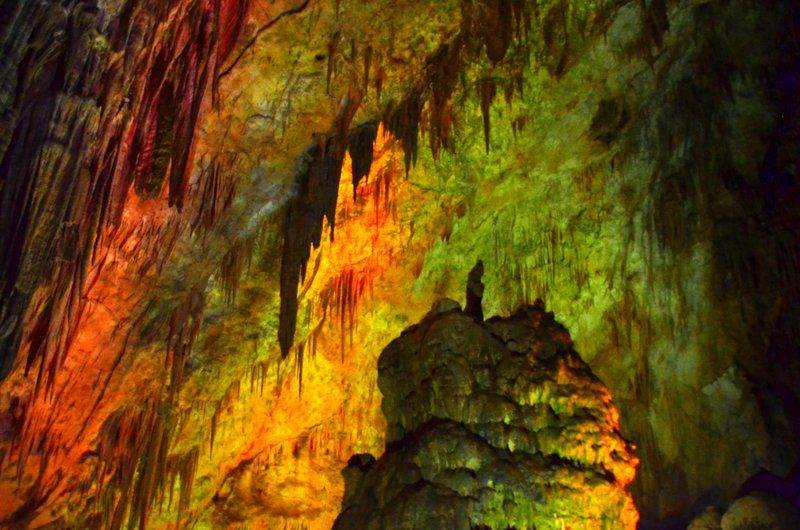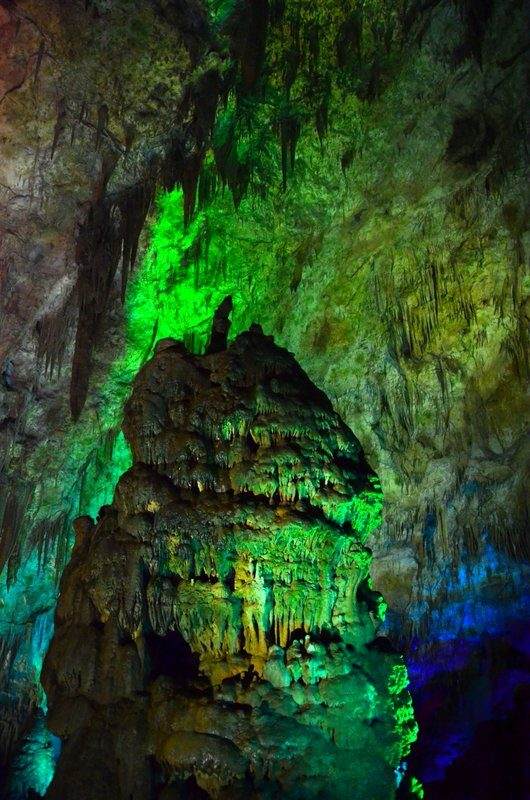 With the tour done in a brisk 50 minutes, about half of the group (including us) exited to the outside world and waited for a shuttle bus (the other half continued on an optional boat tour). The exit of the tour is some 600 meters from where you started — just far enough to prefer the more convenient option.
We waited comfortably in the shuttle bus until the boaters rejoined us — apparently, it's a 10-15 minute boat ride on a single boat for all tourists through another section of the cave. They exited out a different exit, where the shuttle bus was waiting for them.
If your camera is up for the task, this is a worthwhile destination. There's plenty of sights and lights (though they color shift), though some cameras won't be able to pick up the scene (my iPhone 7 did fine, and I'd imagine most smartphones made in 2017 or newer would be OK). If you're on a roadtrip in the area, consider this a worthy stop.
Name: Prometheus Cave
Address: unnamed road in Kumistavi (GPS: 42.376641, 42.600845)
Hours: 10am-5pm (November-March) 10am-5:30pm (April and October), 10am-6pm (May-September) — open everyday but Monday.
Admission: 23 Georgian lari. The optional boat tour is 17.25 lari extra.
Phone: +995 577 10 14 17
Website: http://apa.gov.ge/en/eco-tourism/servisebi-da-tarifebi/Prometheuscave