Visiting this massive castle is like going back in time.
Malbork Castle — or more formally, The Castle of the Teutonic Order in Malbork — isn't just the biggest castle in the world. It's not just a UNESCO World Heritage. Simply put, it's a perfect sort of daytrip from Warsaw, Poland, and absolutely worth the time to fully explore. And I mean fully explore — spend less than a couple of hours inside and you'll probably feel like you didn't see it all.
Getting here involves a 2 1/2 to 3 hour train trip, then a kilometer or so of walking from the train station to the ticket office… then, naturally, more walking around the huge castle — again, it's the biggest castle in the world. Wear your comfy walking shoes, and pick up the audio guide while buying your tickets — there isn't enough English signage around the castle to tell the full story
Originally constructed during the 13th century by the Teutonic Knights, the Polish King Casimir IV bought it as a royal residence and used it as a seat of power. Sweden occupied the area for a bit of time, but in general it was controlled by the Polish until 1772. The Prussians / Germans ruled from then until the end of World War II, which restored it in the early 19th century. While the castle was used by Nazi Germany as a retreat center, you won't see any of that history on display. After World War II, it became Polish again, and even though about half of it was destroyed during the war, restoration began in 1962 and continued until 2016.
What's on display in 2020 is nothing short of complete, restored, and quite a sight. At least four movies have used the castle as a filming location, and honestly I'm surprised that number isn't higher. Everything you think that ought to be in a castle in here — the high ceilings, the bridge over the moat, the gate like you see above….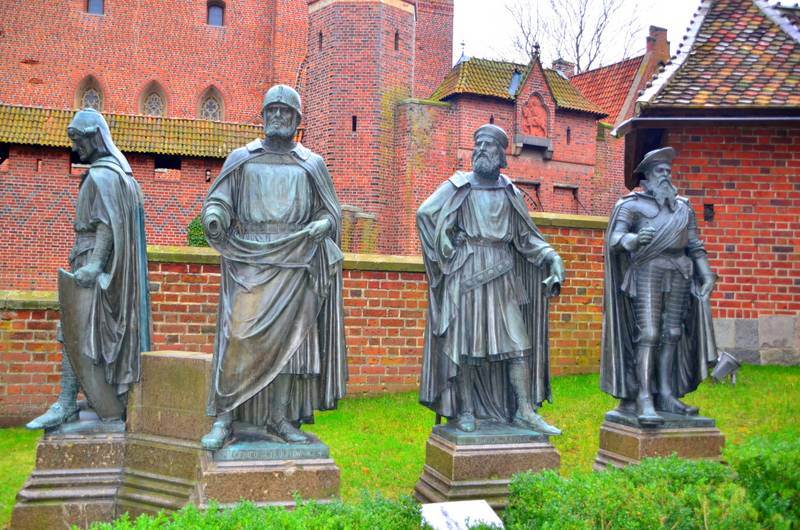 As you might expect, there are many layers to the castle. Once inside one of the inner courtyards, you'll come across this quartet of Teutonic Grand Masters from the 13th to the 16th centuries. The monuments date from 1877, as Prussia hoped to show these men as the "predecessors and creators of the Prussian state".
A reminder these were Crusaders at heart.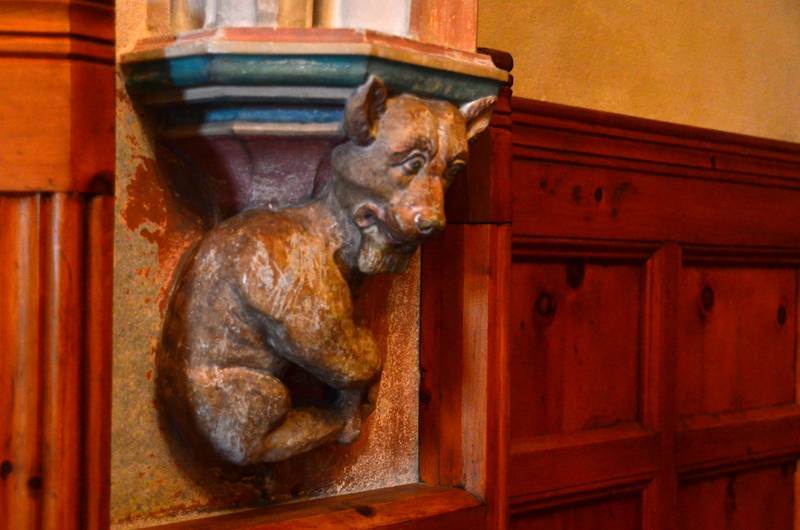 Devils holding up pillars, anyone?
Some of the original artwork still remains, supposedly, but with so little signage it's hard to say.
Part of the entrance to St. Mary's Church Complex,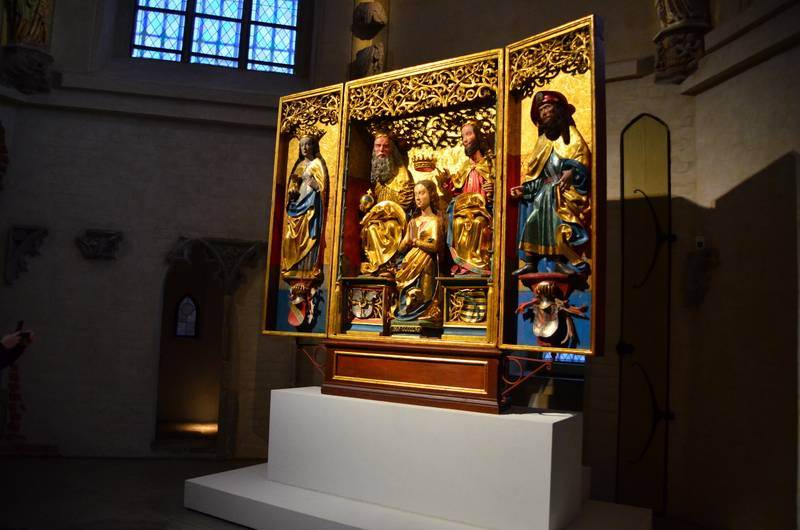 Not pictured just to the left is a guided tour in Polish in progress — in retrospect, joining one of these would have been really informative. Some of these are available in Polish only, though there are plenty of options to join a guided daytrip from nearby Gdansk.
Some more original artwork and vaulted ceilings — it's tough to tell where the original parts end and the reconstructed parts begin.
Even the floors are worth taking in. Not pictured nearby is a room focused on the many restoration efforts throughout the years. This particular room feels like it has more English signs than the rest of the castle combined. Not particularly photogenic, but definitely informative.
Take in the outside for some elements of nature that can't be faked.
Well, this is awkward… Our fearless knight, Wolf von der Oelsnitz, died 1593, has been immortalized… holding his crotch? This section features some 'modern' tombstones — modern, that is, to mean from the 16th to 18th centuries…
A couple of tombstones for the Teutonic Knights are from the 14th century, though a sign says these originally come from Gdansk.
Love these quirky door handles.
Overall, castle lovers and history lovers will find plenty to enjoy here. There's a lot of walking to be done, and while it's mostly easy walking, there are some tight, steep staircases at play. I would have loved to see more English signage on-site — all of this history is known and part of the audio guide, after all.
Make this a daytrip from Gdansk (about 1 hour by train) or Warsaw (2 1/2-3 hours by train).
Name: Malbork Castle (Castle of the Teutonic Order in Malbork[1] (Polish: Zamek w Malborku)
Address: Along Parkowa road, 82-200 Malbork, Poland (GPS: 54.040958, 19.033832)
Hours: October to April: 10am-3pm (until 4pm for exterior areas). May to September: 9am-7pm (until 8pm for exterior areas).
Admission: October to April: 45 zloty. May to September: 47 zloty. Reduced-price tickets available if arriving a couple hours before closing, and a 7 zloty ticket is available for the exterior areas after the interior areas are closed.
Website: http://www.zamek.malbork.pl/en