Author's note: This post contains some NSFW photos – skip on by if you're at work, or keep reading if you're ready for a ride!

Haesindang Park (해신당 공원) is quite possibly one of the most… er, unique parks in Korea, rivaled only in stature by a few select places around the world. Again, this post is NSFW (PG-13, not XXX) – click when you're ready…
Haesindang Park translates to Penis Park. Before closing your browsers in disgust or wonder if I've lost my morals, read on. The story Lonely Planet tells is interesting – and not seen in English anywhere at the park.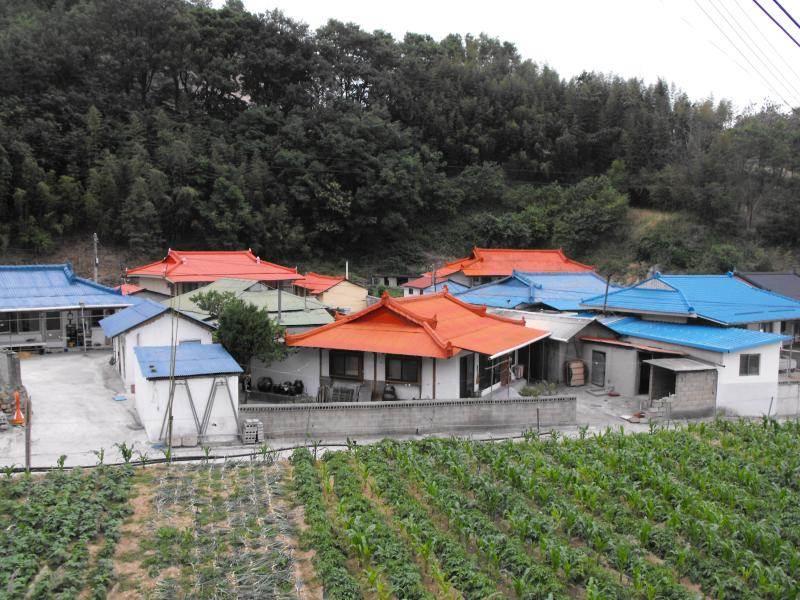 Walking down from the main road towards the park.
Yep, that's a penis you're looking at – carved in wood (oh the irony) rather artistically.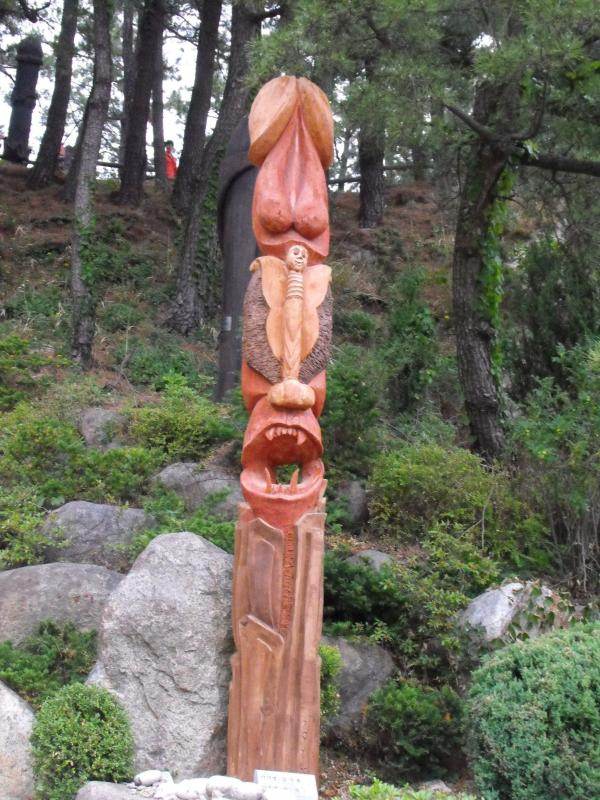 This one's got teeth…
While most have been at the park for awhile, there have been a few phallic symbols as the result of contests held over the years. Hey, you may as well have it seen here – it's not like you can take it home or display it in most art galleries…

Up some stairs we go.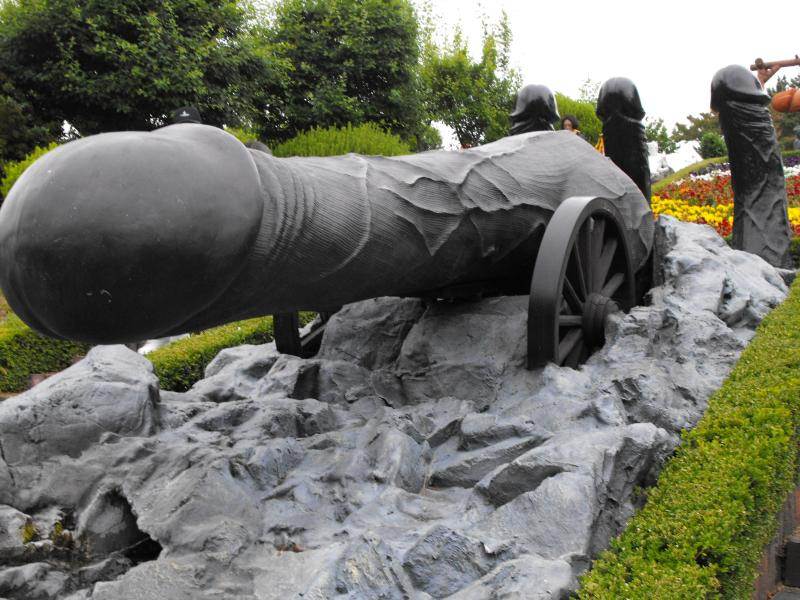 A penis cannon, anyone?
Phallic symbols were everywhere – as were a few ajosshi and ajumma giggling at both the number and size of… er, objects.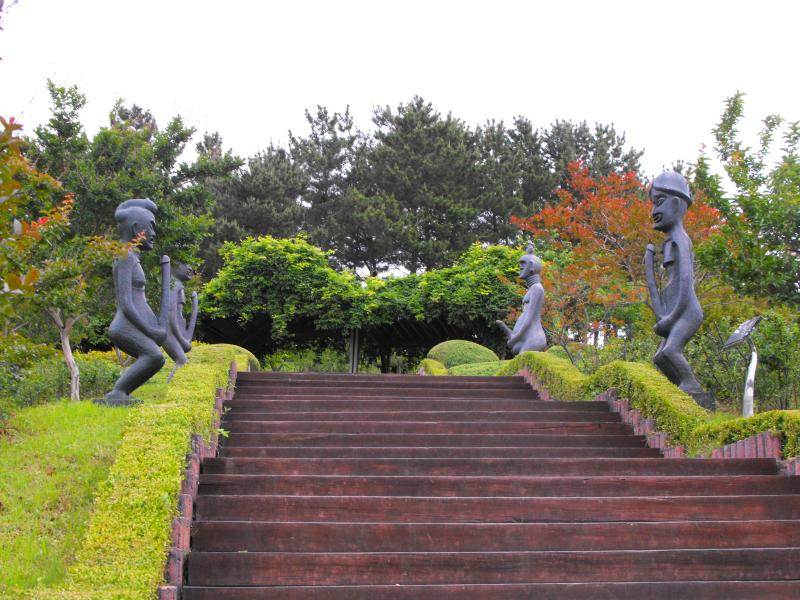 Some resembled sculptures from other countries – India, perhaps?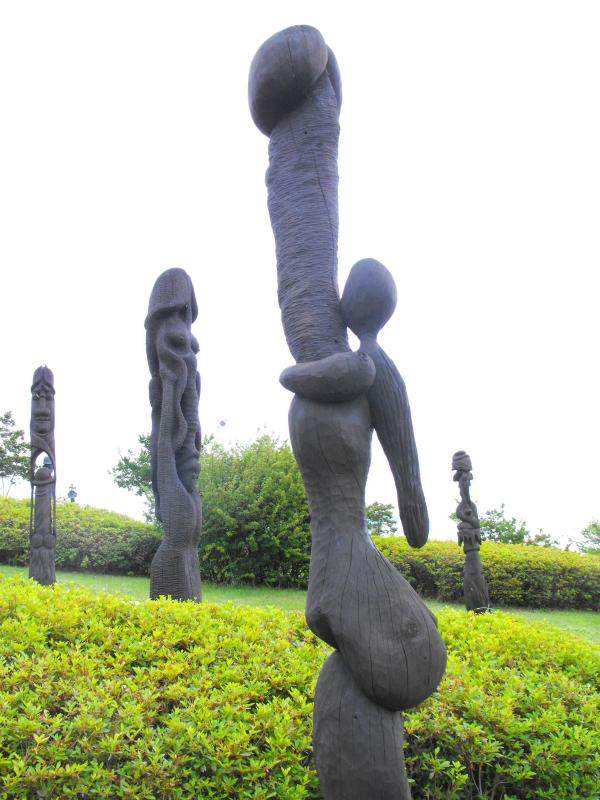 Having a woman carved on the side of one was a fairly constant theme.

The red lighthouse in the back is, er, appropriately shaped along with the rest of the park.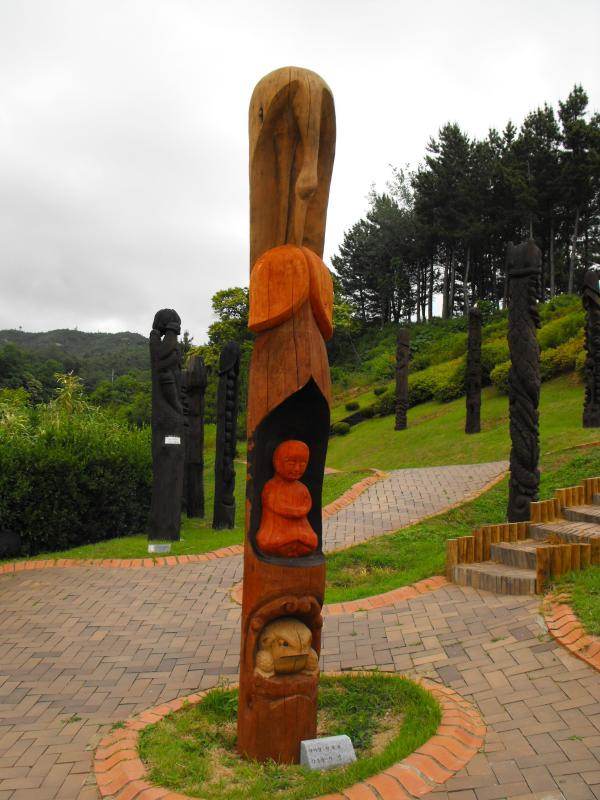 A baby inside the penis? Hmm.. OK, I guess…

So this is what happens during circumcision…
It goes without saying that phallic symbols weren't the only thing to see. The Fishing Village Folk Museum was in the same area, though it was closed by the time we arrived. It's interesting to note that you'd have to walk by quite a few phallic symbols to arrive at the Folk Museum – maybe that's why there are so few field trips scheduled here…
Anthropormorphic.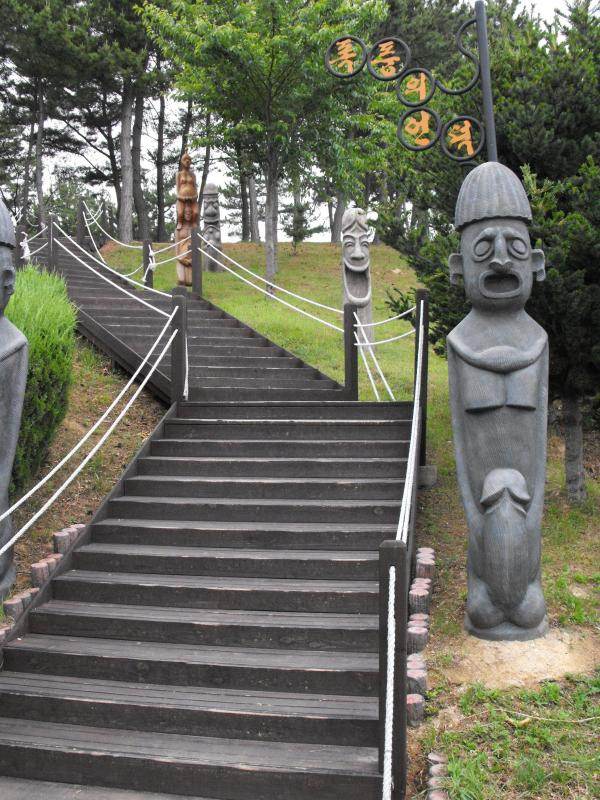 I love the faces on these characters.
They're everywhere.


Sneaking a peek inside a building with a scene – but no doors. Some peepholes from the cloth covering the windows is the best you can get.

What was I saying about using women as part of the art?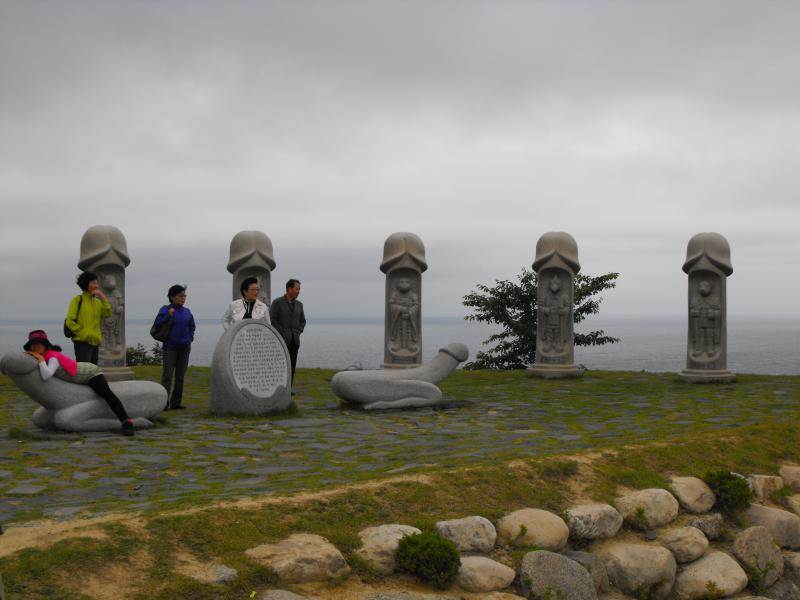 A few Koreans enjoying the various stone statues – I couldn't tell if they were slightly intoxicated or just giggly from everything around them.

Aaaaahhh, here she is – the reason all these penises are around in the first place. Here's our mythical virgin that was supposedly swept away to sea before being, er, deflowered.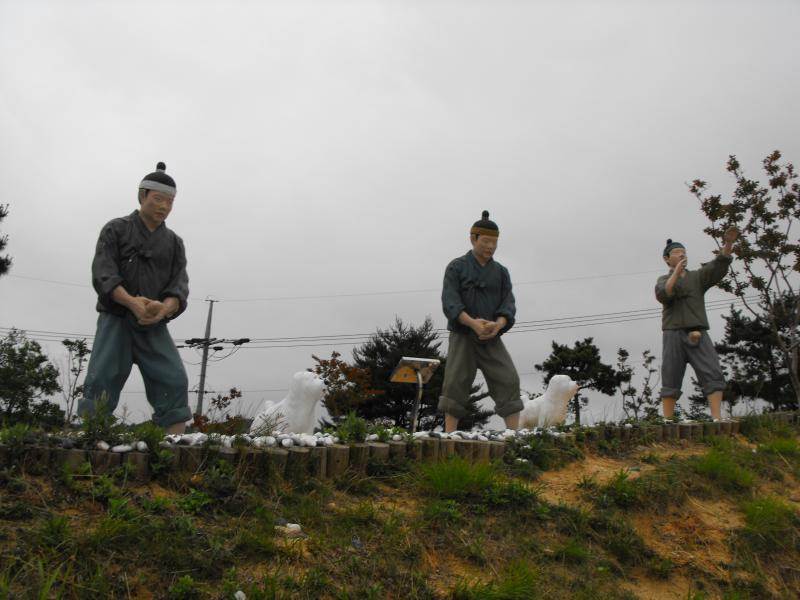 Koreans (they look like boys – WTF?) with some impossibly large penises.


Another building with no legitimate way to look in… but with peepholes torn from the cloths covering the windows.

This was the 'safe' picture – but you can definitely get an idea of what's going on.Haesindang Park was definitely an eye-opener, and a surreal experience I'd never expected to find in Korea. While there was zero signage in English and it's not necessarily mentioned on the tourist maps and signs, it's worth exploring for the uniqueness of it.
Directions to Haesindang Park (from Seoul's Express Bus Terminal): Take a bus to Samcheok in Gangwon-do. Look for tickets and boarding in the older portion of the building; buses leave around every 15-30 minutes (not every 1 1/2 hours like the Lonely Planet guidebook says!), and take about 4-5 hours depending on traffic. The bus may cost 15,900 won (for standard, or 일반) or 23,400 won (for first class, or 우등). Once at Samcheok Bus Terminal, wait for intercity bus #24. Pay 1,300 won per person for a 40km ride. Keep your eyes open, or ask the bus driver to announce when you arrive. Once at the exit, walk down the hill towards the water and through a rural village. You'll see the more up-to-date 'touristy' section after about 8-10 minutes walking.