Whether traveling is a full-time, world-spanning endeavor or just what happens on the vacation time you have, being comfortable while you travel is important. I asked some fellow travel bloggers what creature comforts they take with them, and of course I've added a couple of my own at the end.
This post contains affiliate links.
Souvenir Thank You Gifts
From Ingrid Truemper at Second-Half Travels:
One of the best things about traveling is the kindness of strangers, both locals and fellow travelers. At such moments, it's nice to have a small item to give spontaneously as a thank you and memento of your meeting. Suggested gifts include fridge magnets, lapel pins, stickers, and key chains from your hometown. Souvenir postcards are lightweight to carry and can be personalized with contact information or a thank you message.
I also plan more elaborate gifts in advance for people like homestay hosts and volunteer guides. Successful presents have included small scenic calendars of my home state, locally made chocolates and soap, and whimsical souvenir dish towels.
Your very own pillow
From Tatiana Sorokina of Family Road Trip Guru:
Comfort is very important for me when I am travelling. I always take a small narrow pillow with me wherever I go. I use this pillow as a neck pillow or for hip alignment in between the knees (this is a must when you sleep on the side). You can never be sure what pillow you will get in a hotel and good sleep is essential after a long day of exploring. Sometimes the ones in hotels are too soft, other times they are too hard and all of them are too big to use for body alignment. Even if you are sleeping in someone else's bed, this small piece of home makes a world of difference.
…and a nice pillowcase
From Annick Lenoir-Peek of The Common Traveler:
This may sound strange but I travel with a silk pillowcase. Whether it's a change in the type of water in other locales or the dryness caused by ocean swims and the sun, both my face and hair go crazy when I travel. My silk pillowcase helps tame these side effects of travel. Plus having something from home close to my face helps keep a part of my bedtime routine stable no matter where I am. It's lightweight and easy to fit in even the smallest bags. So while it may be unusual, I always travel with my silk pillowcase.
The little speaker that could
A small, waterproof Bluetooth speaker is a creature comfort with which I always travel. Music is an important part of my life for relaxing, motivation and pure enjoyment. Sometimes headphones are too restrictive, and the small speaker allows me to maintain some normalcy when traveling far from home.
Streaming from my smartphone, the lightweight speaker not only serves me well when hiking in the countryside or lazing on a beach, background music is a welcome addition when hanging out with new friends. Traveling without music is hard for me to imagine, and packing a small speaker is a creature comfort that makes my trips a little better.
Slippers for foot's sake
From Alison Roberts-Tse of Dance Dispatches:
When I travel, "for foot's sake", I bring my slippers with me. Not only are slippers great for long-haul flights, they can make your stay at a hotel or AirBNB much more comfortable, too. After a long day of walking around the sights, you can return to your temporary home, and pad around in your plush footwear as you prepare for the next day. Slippers are especially useful if you book an older hotel with chilly tile floors during winter – or if your accommodation isn't quite as cleanly as you were expecting… I consider my slippers as essential part of my pyjamas, what I wear abroad whenever no one else can see me.
Cut your own hair
From Alejandra Werner of Universo Viajero:
Funny as it may seem, an essential part of my luggage is hair scissors. Since our first trip together I realized that it is impossible to schedule when my boyfriend will decide he needs a haircut, and more than once I have had to cut it for him in the bathroom of a hotel while we travel. A couple of months ago we buy special ones for travel (smaller and without the pointy tip so nothing gets cut on my bag), and they are always in my vanity case. The bad thing is that, in general, I can not take my luggage in the cabin of the plane; the good thing is that we have been taken out of more than a hurry because of how versatile it is to have a pair of scissors with you.
Electronic entertainment
From Jason Lee of https://minthabits.com:
Being an Apple fan boy, I take my iPad everywhere I travel to. It is one of the most handy and useful electronics for traveling the world with. I use it to kill time on flights, train rides, and any time I have to wait. I load movies and apps to keep me busy. iPads (or any tablet) are really useful to manage your itinerary, business related needs, book flights and hotels, research your next destination, etc. Sometimes your mobile just isn't big enough! The bigger screen really helps. Best of all, tablets are really light and are easy to take around with you! I don't go anywhere without mine!
I'll scratch my own back, thanks
From Rachel Heller of Rachel's Ruminations:
You know that spot in the middle of your back that you can't reach? That spot that, when it itches, you have to contort yourself in all sorts of ways to reach it with the tip of a finger? I don't have to become a contortionist to deal with mine: I take a backscratcher with me whenever I travel. I leave it on the bedside table in my hotel room so it's handy when I need it. I've had it for 25 years or so, but if I ever lost it, my next one would be the foldable kind, for easier packing.
Cool off
From Jess Drier at unearththevoyage.com:
One of the things that I take with me when traveling that is totally not needed but absolutely ups my comfort level is a battery powered mini fan. When I was traveling in Tanzania, it was hot and electricity was unreliable so having a fan keep me cool while sleeping was a life saver. I am also one who needs to have white noise while sleeping- and there is nothing better than the white noise a fan makes. The fan I have takes double D batteries- so it can get quite heavy. If you are willing to add about 5lbs to your bag for some awesome white noise and a cool breeze when there is no AC- a battery powered fan is a must!
Caffeine on the go
From Sarah Carter of A Social Nomad:
My folding silicon coffee filter dripper is my absolute necessity to take with me and it takes up so little space and weighs virtually nothing you hardly notice that it's there. A decent cup of coffee in a morning sets me up, and the folding silicon filter means that I get drip coffee wherever I am in the world.
Pop it out and it sits over any mug or cup, insert a paper filter (or be more environmentally friendly and use a cotton or mesh stainless steel reusable filter), measure your coffee in and add hot water. Just make sure you have a supply of food filter coffee and you're set. Best of all, you don't have to rely on utilizing any dodgy coffee maker, or worse, cleaning other peoples before you use them!
Something stuffed and cuddly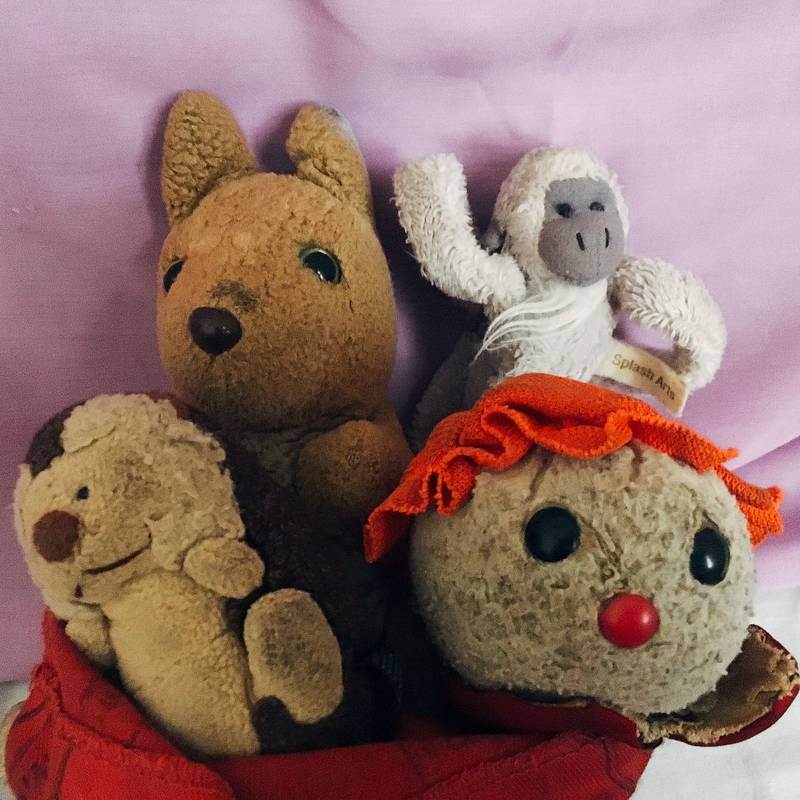 From Wendy Werneth of The Nomadic Vegan:
My husband and I always travel with four small stuffed toys who have become like family to us. Each one has a backstory, and the oldest, a kangaroo named Hoppy, has been with us for 15 years. We are childfree by choice, but we treat these little guys like the children we'll never have.
Once, when we were staying at an eco-lodge in Malawi, we thought we had lost them. I was devastated and couldn't stop crying. It turned out we'd left them at our hotel in the previous town and were able to go back and get them. It was a very happy reunion!
Shall we play a game?
From Penny Fernandes of GlobeTrove:
Oddly enough I found that one of the things that I can't leave home without is a board game. I say that it is odd because it wasn't something that made our list until a friend loaned us one of his games and we realized that board games really help you pass time when you are stuck at airport or when the weather is bad. They also make a great social icebreaker. While Seven Wonders Duel and Lost cities are two of our favourites, we compiled quite a collection of travel board games that we rotate through whenever we head out on a trip.
Put the red 5 over there…
From The Elusive Family:
Traveling from place to place can create a lot of change.  Locations, hotels, campsites, trains, people change constantly and it is nice to have something reliable that can entertain adults and kids alike.  A pack of cards is perfect and one of our staples when traveling. There are a multitude of games that can be played including hearts, rummy, go fish, poker, crazy eights, and solitaire among others.  As one of the oldest games in the world, it still provides endless entertainment for individuals and families alike.
Get wine. Open wine. Cheers.
By Julien Casanova of Cultures Traveled:
One item that always comes with me when I travel is a wine opener. There are some kitchen gadgets for which you can find a workable substitute, but a corkscrew is not one of them. Yes, I've tried using a long screw to open a bottle of wine but it was not pretty.
A wine opener is one of those easily overlooked items when stocking a kitchen. It's also one of the most disappointing to discover you're lacking when you reach to open a bottle of wine. You don't need to bring a large fancy wine gadget. My favorite style is a double-hinged wine key that folds compactly.
Stay hydrated
From Sheri O'Neal of Wanderlibre:
My husband and I choose to carry is a 16 ounce Stanley Adventure Travel Mug w/ lid.   This is an important piece of kit for us because of it's size, ability to keep our drinks warm, and the lid prevent spills when we're driving. A large portion of our travel is overland by 4×4 and our trusty Stanley cup ensures that we can always start our drive with a piping hot cup of coffee or tea knowing that our drink won't spill when we're traveling over rough terrain.
Even when we're not traveling by car, we like to pack this cup because, well, small cups irritate us. We like to know that we'll always have a big cup of coffee, no matter where we are – whether we're camping or staying in an Airbnb.
Cook better
By Larch of The Silver Nomad:
I love cooking, wandering foreign markets choosing fresh meat, vegetables and fruits to try local dishes. Wherever I go I try to go self-catering so that I can prepare my own meals. Unfortunately kitchens around the world can have different levels of equipment, blunt knives and no graters. I make sure that I have a microplaner in my luggage. This means that in Bali I can have freshly grated ginger for my mei goreng, finely minced garlic for my pasta in Italy, lemon curls for my cake wherever I am or grated nutmeg to add to fresh garam masala in India.
Literally a big plastic cup
By me!
Too many places we've stayed at think of cups as these cute little things with dainty handles… Like people enjoy taking one drink, getting a refill, taking a drink, getting a refill… End this madness — get a bigger cup. Water's the most obvious to fill it with, though I've grown to enjoy sparkling water — especially as a substitute for sugary drinks.
How big? Mine are about 800 ml, and came with a lid for taking to the gym. Just keep your eyes open. They're plastic, so they're not going to break in your suitcase.
Just pick one up at your favorite shop near you.
A portable spa
By me!
OK, maybe the headline oversold it a bit — it's basically a large plastic bowl (holds about 10 liters) and is perfect for soaking your feet at the end of the day. Put a towel underneath for any splashes, fill up the bowl with hot-as-you-can-stand water, and enjoy.
Just pick one up at your favorite shop near you.
Over to you
What are your favorite creature comforts while traveling?